STANDARD
ANSI/ISEA 138-2019
American National Standard for Performance and Classification for Impact Resistant Gloves
ANSI/ISEA 138-2019 establishes performance levels, testing and classification for gloves designed to protect the fingers and knuckles from impacts while performing occupational tasks.
ANSI/ISEA (American National Standards Institute/International Safety Equipment Association) 138-2019 standard is designed to test multiple impact points on the fingers and knuckles, resulting in three levels of measurement. This American National Standard is an evolution of the existing European Standard for impact – EN 388:2016.
Test Impact Zone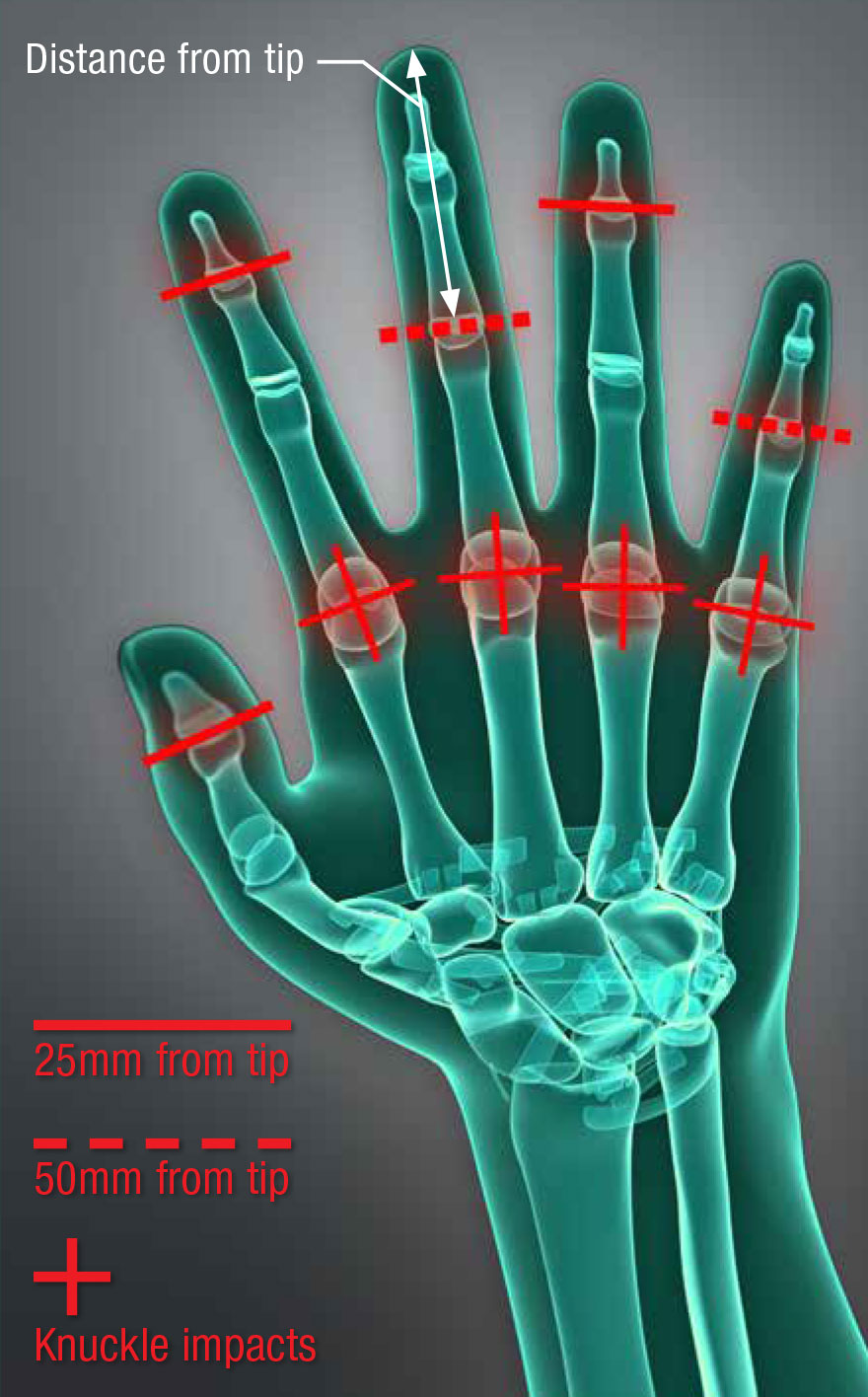 ANSI/ISEA 138-2019

Glove sample
Palm side of the glove is removed and only the back of the hand is tested.

Weight
A drop striker is dropped (with an energy force of 5 joules) onto the glove, which is placed on an anvil.

Tests
There are 9 impact sites tested on each glove (see diagram). Total of 18 tested impacts (8 knuckles, 10 fingers/thumb) are used to calculate the mean of the forces.

Results
Impact performance rating is based on lowest rating achieved on all the impact points tested.
Source:
safetyequipment.org/ansi-isea-138-2019

Tests are verified by an accredited third party laboratory.
IMPACT RESISTANT
≤4 kN
Kilonewton (kN)
Mean Transmitted Force
MAX PERFORMANCE LEVEL
≤6.5 kN
Kilonewton (kN)
Mean Transmitted Force
MED PERFORMANCE LEVEL
≤9 kN
Kilonewton (kN)
Mean Transmitted Force
MIN PERFORMANCE LEVEL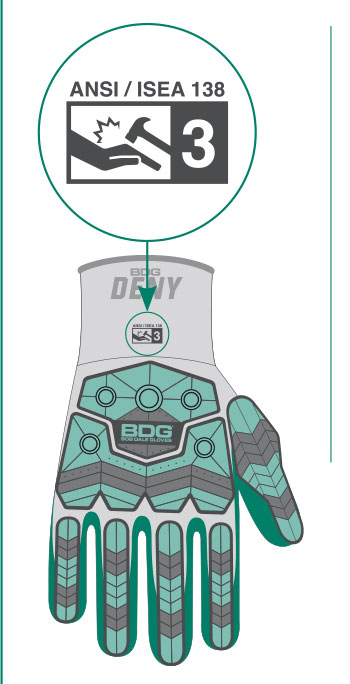 Impact resistant gloves
Test results are represented by performance levels 1, 2 or 3 as depicted on the gloves.
Level 3 is the highest level of protection.
For the latest safety standards, classifications, testing criteria and ratings information, please refer to the appropriate governing body or association.
Information contained in this document is subject to change without notice. As BDG® cannot control or anticipate the conditions under which a product may be used, each user should review the information in specific context of the planned use. To the maximum extent permitted by law, Bob Dale Gloves and Imports Ltd., and/or its affiliates, employees or representatives will not be responsible for damages of any nature resulting from the use or reliance upon the information contained in this sheet. No express or implied warranties are given other than those implied mandatory by law. BDG® products are not cut and puncture proof. Do not use with moving blades, tools or serrated blades.
Revision Date: October 27, 2021